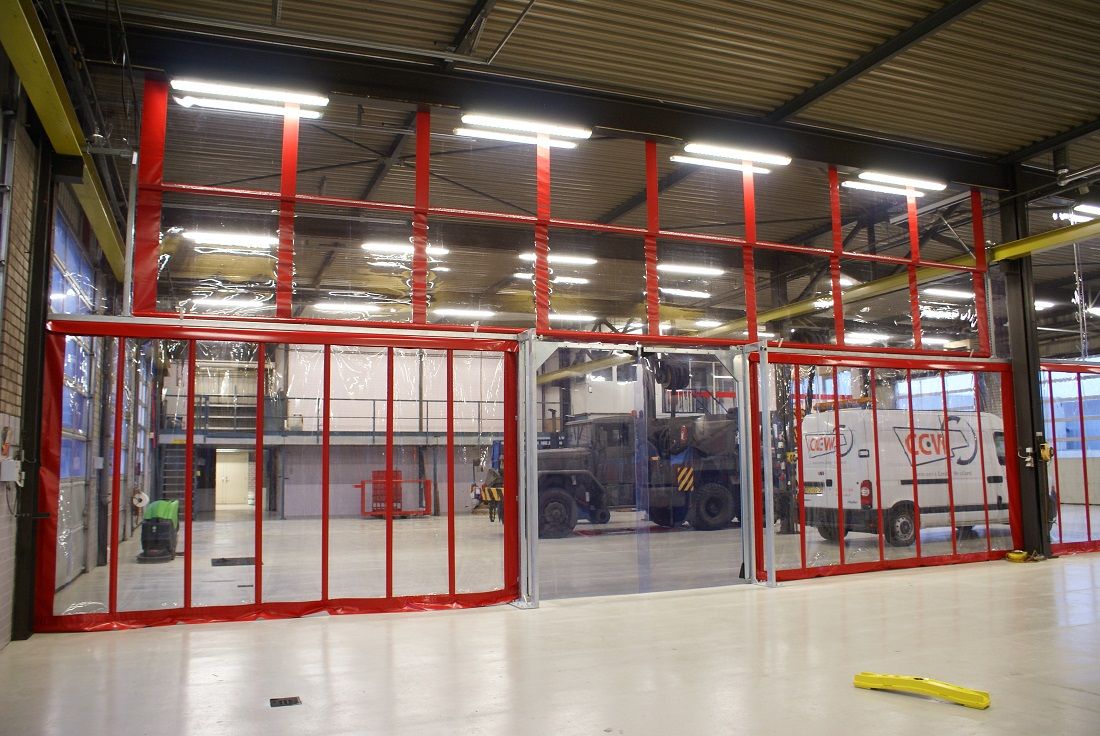 High-speed roll-up doors and automatic service doors
PVC film for high-speed roll-up doors, industrial and automatic service doors
 Are you looking for material for a flexible and transparent window in a rapid roll door or a warehouse divider? Wendt has PVC film that is specially reinforced so that they can withstand the tensile force in the doors.
High-speed roll-up doors
A High-speed roll-up door is the ideal seal between two departments that should remain separated as much as possible, but where your employees can reach the two rooms quickly. Because the passage of the two different rooms must be clearly visible, the doors are fitted with transparent film.
Wendt's Vinistar Classic PVC film with a thickness of 1.00 mm is very durable and has a high transparency that can withstand the many open and closing movements of high-speed roll doors. As an option, Wendt also has Achilles Transparent Tarpaulin with polyester mesh available. The polyester mesh makes the PVC window film extremely robust, strong and durable.
 Garage doors or industrial doors
Also garage or automatic service doors with windows can be provided with Achilles PVC film. The high transparency and fire-resistant properties contribute to the safety in your premises.
Roll-up doors in cold stores and deep-freezing warehouses
Transparent Tarpaulin is available with various properties such as fire resistance, antibacterial, antistatic and cold resistance. This makes this PVC film extremely suitable for applications in cold stores, deep-freezing warehouses and other environments with low temperatures and high demands.
Advantages:
High transparency for optimum safety.
Robust film that can withstand the tractive force in the high-speed roll doors.
Products
The following PVC films are suitable for these applications:
Do you have any questions?
Do you have questions or are you curious which PVC film is the right choice for your end product or project?
Then please contact us. You can call +31 (0) 252 516 938 or send us a message and we will contact you.