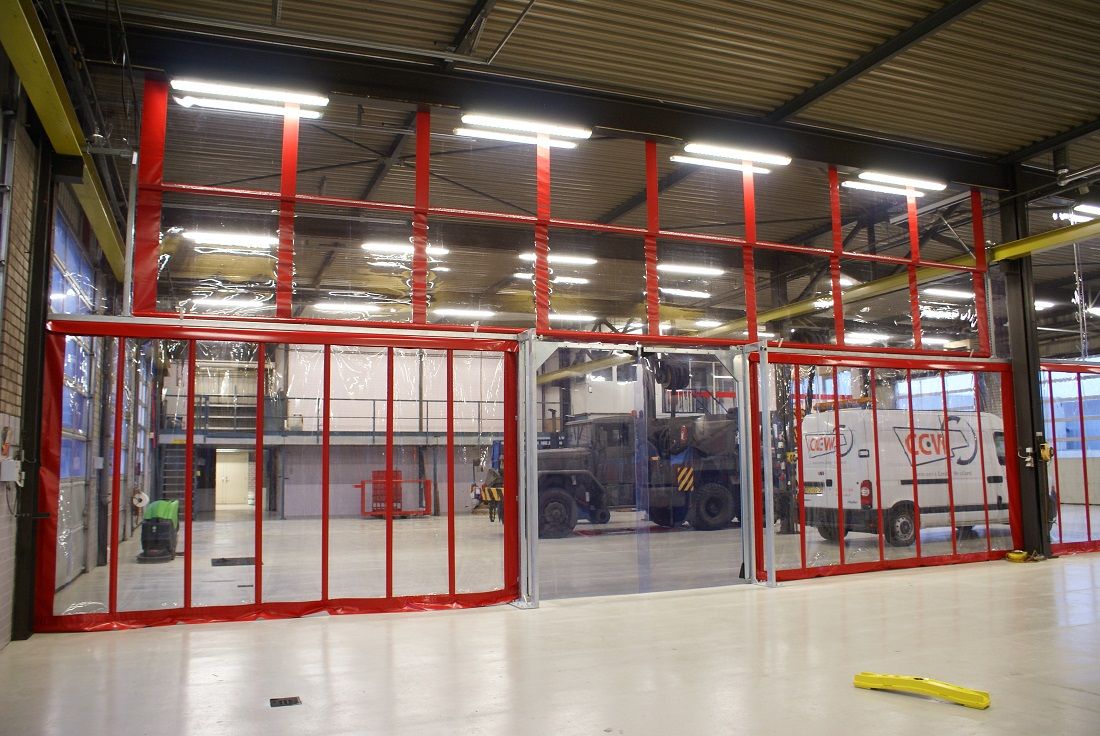 Flexible industrial partitions
Fire retardant PVC film for flexible industrial partitions
For industrial partitions, flexible partitions or (semi) temporary walls in factories, Wendt has been offering various PVC films for years that can be used for customised solutions. Transparent industrial curtains are a simple and economical way to create and separate spaces in your factory or workshop.
Transparent curtains for your workshop or factory
The transparent curtains stop draughts in your factory so that everyone can work comfortably. The curtains also protect against heat and cold loss. You can easily create a safe and pleasant working environment. Because the PVC film is transparent, it remains clear what happens on the other side of the curtain or wall. An example of a transparent curtain is a separation curtain between warehouse and production area or a shield around machines.
Transparent partitions
The transparent partition wall can be used as a fixed wall or as a flexible wall. Also a mobile workplace in your factory is easy to create with the PVC foils. The workplace can be made dust-free, draught-free and safe through the walls. This is important in, for example, the pharma chemistry, food sector and technical industry.
Advantages industrial applications:

Safe working environment
Crystal clear
Reduces cold and heat loss
Protection from draughts and dust nuisance
Reduces noise pollution
Reduces dust dispersion
Increases worker comfort
Little to no maintenance required
Flexibly deployable and economical
Product characteristics:
High transparency
Fire retardant (certified)
Antistatic
Electrostatic Discharge protection(ESD)
Products
The following PVC films are suitable for these applications:
Do you have any questions?
Do you have questions or are you curious which PVC film is the right choice for your end product or project?
Then please contact us. You can call +31 (0) 252 516 938 or send us a message and we will contact you.